International Mini-Z Masters Prague 2022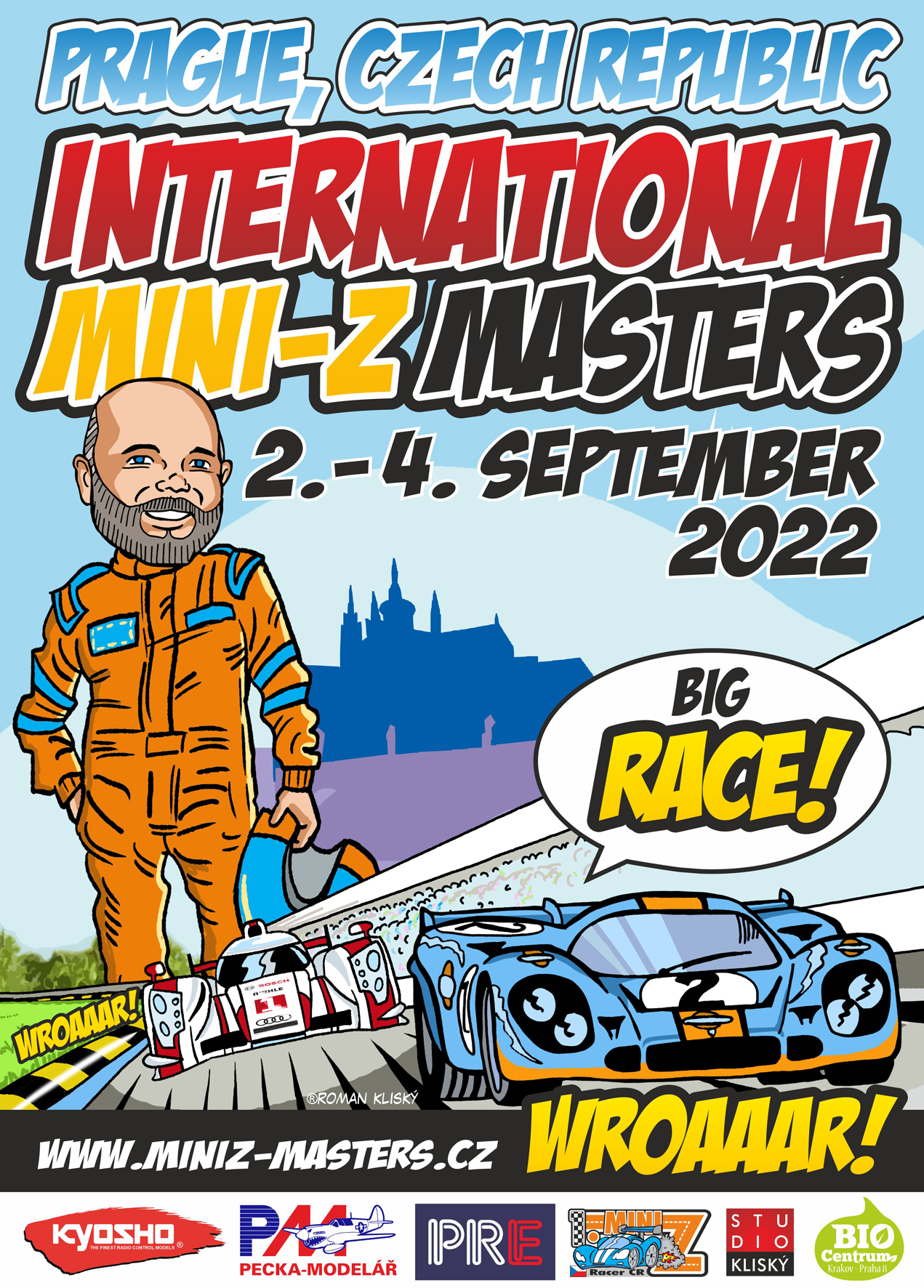 Dear Mini-Z racers,
after a succesful annual International Mini-Z Masters in Prague, we are happy to announce a next year of the races. In the heart of the Europe, in the historical centre of Prague.
We would like to invite you at 2-4.9 2022 to Michnův palác – Tyršův dům situated in the centre of Prague (five minutes walk to Charles brigde). Part of the event is Championship of Czech Republic in class Mini-Z.
CATEGORIES
MINI-Z Box Stock
2WD Stock
2WD Le Mans
FORMULA 1
2 WD/ 4WD Open
2 WD HM
Starting fee
Each driver has to pay starting fee 1000,- CZK ( 40,- EUR). This allows the driver to start in 1 category. For each other category driver has to pay 270,- CZK (10,-EUR)
Payment only in advance. Small gift for each driver. Registration from 1.7.2022 to 5.8.2022 . direct via myrcm.ch Please note that we accept online registration only.
The races will take place only if there are at least 45 registered and paid racers by 5.8.2022 Otherwise, the races will be canceled and the paid entry fee will be returned to the account of the registered racer. Starting fees have to paid in 5 days. If I tis not paid, driver will be cancelled
Address of racetrack:
Michnův palác-Tyršův dům
Újezd 450
118 00 Praha 1 - Malá strana
International Mini-Z Masters Prague 2022
Vážení piloti Mini-Z,
po úspěšných International Mini-Z Masters 2014 - 2020 v Praze jsme se rozhodli uspořádat další ročník závodů.
Rádi bychom vás pozvali 2-4.9 2022 do Michnova paláce-Tyršova domu, který je ve středu Prahy. Součástí International Mini-Z Masters bude Mistrovství České republiky ve třídě Mini-Z.
Kategorie
MINI-Z Box Stock
2WD Stock
2WD Le Mans
FORMULA 1
2 WD/ 4WD Open
2 WD HM
Startovné
Každý pilot musí zaplatit startovné 1000,-Kč(40,-EUR) To mu umožňuje start v jedné kategorii. Za každou další kategorii zaplatí 270,Kč(10,-EUR).
Platba pouze předem - převodem. Každý pilot obdrží malý dárek. Registrace přes myrcm.ch od 1.7.2022 do 5.8.2022.. Vezměte prosím na vědomí, že přijímáme pouze registrace online
Závody se budou konat pouze v případě, že do 5.8.2022 bude nejméně 45 registrovaných a uhrazených závodníků. V opačném případě se závody ruší a zaplacené startovné bude vráceno zpět na účet registrovaného závodníka. Pokud do 5 dnů od registrace nebude uhrazeno startovné, bude závodník smazán.
Adresa závodní dráhy:
Michnův palác-Tyršův dům
Újezd 450
118 00 Praha 1 - Malá strana